MAX WRIGHTSON
Despite a busy schedule of gigging, teaching, composing and organizing a brand new musical project, the extremely talented Jazz pianist and recent USC graduate: Nikos Syropoulos, took the time to sit down with Campusounds and talk about life out of school, the secret to success as a freelance musician and the concepts behind his unique new band Rozalia.
Campusounds: So, you graduated from USC a little over a year ago, how does it feel to be free of that structure? What do you miss about being in school?
Nikos Syropoulos: Well overall, I am happy to be out of school. I feel generally comfortable making a living as a musician. I get to do what I love to do, and I am living a good life.
I definitely do miss certain aspects of college.  The thing I would say I miss most is the immediacy of the music community on a college campus. I miss living within walking distance of musicians and rehearsal spaces. Having a place where I can use a grand piano in a private room, even for a couple of hours, is extremely hard to find outside of school. I also really miss my private lessons. School gave me access to teachers/musicians I respect and a place to bounce ideas off of them, which is something I wish I had more of now.
CS: If you could go back to school, what are some things you would have done differently?
NS: I stayed too much within the boundaries of my home department. If I could go back, I would take more classical composition and orchestration classes. Those are both techniques that I am trying to learn on my own right now and I wish I had some guidance.
CS: Speaking of writing for strings, you have a new project "Rozalia" that includes a lot of strings. What inspired this new instrumentation? Tell us a little bit about the band.
NS: Well, the inspiration for this band came from my love for classical chamber music.
CS: Do you have some specific examples?
NS: Sure, Brahms clarinet quintet in B minor, Beethoven's later string quartets, Bartok's string quartet works etc. In short, some of my favorite music in the world has a lot of strings and I really wanted to use the sound and texture of those instruments in my own sound.
            Also, this new instrumentation has really afforded me new freedoms as a composer, performer and leader. Before Rozalia, I mostly wrote music for jazz combos i.e. Piano, Bass, Drums and Horns; this new band however, is completely different. The instrumentation is essentially a string quartet plus myself on piano and a vocalist.
The absence of a drummer has really changed the structure of my writing and the performance of the band. I have found for instance, that I have more of a leadership role in the group; I am able to easily control the tempo and momentum of the music without having to fight against the drums. I guess I am a control freak [laughs].
CS: You mentioned a vocalist a couple of minutes ago, does that mean the music your have written for Rozalia has lyrics, or is the vocalist more of an instrumentalist?
NS: No no no, the lyrics are a big part of the music for this ensemble. Personally, I have only written lyrics to on piece "
Audio clip: Adobe Flash Player (version 9 or above) is required to play this audio clip. Download the latest version here. You also need to have JavaScript enabled in your browser.
" but I consider myself extremely lucky to be friends with an amazing lyricist/trombonist in L.A. Vikram Devasthali.
I am really in awe of Vikram's ability to add words to my music. I wrote a piece called "Premature Nostalgia" that I sent to him just as a simple melody. Within a couple of days, he had written a beautiful lyrical poem that fit perfectly over the music; his lyrics really give my melodies a new life.
CS: So, you have a show with Rozalia tomorrow night at "The Blue Whale," with a group this size, and a project this involved, logistics must have been complicated. What advice do you have for other young artists who are putting together similar projects?
NS: TREAT YOUR MUSICIANS WELL! [laughs], I pay all of my musicians for both rehearsals and performances. I don't have a big budget, but I look at a project like this as an investment, and you want your musicians to be on your side and excited about the music.
In terms of logistics, the most important thing is to start planning and organizing as early as possible. Also, keep in contact with everyone involved as much as possible without being annoying.
Rehearsals are really important as well. I always start rehearsals off with something easy so everyone begins the experience with confidence. If your musicians are struggling on a specific section or piece, make sure you pick your battles. I have found sometimes it is better to move one to something else and just trust that the musicians with go home and practice their parts. You have to assume that everyone is invested and wants the music to sound as good as possible.
CS: If you had to convince someone to come to the show tomorrow night, what would you give as reason for them to come and check out the music?
NS:  You should come because most importantly, I really think the music is going to sound good! A lot of thought went into these compositions and I feel this is truly my own sound. I have also put a lot of time into these compositions and the set lists for tomorrow.  The music has a unique sound that combines classical instrumentation with improvisation; both sets are truly diverse groups of pieces and should be interesting to any listener.
CS: Can you give us any hints as to what you guys will be playing?
NS: Besides my originals, we will also be playing a couple jazz standards and a special version of Brad Mehldau's "When it Rains" that features original lyrics by Vikram, it is going to be a great show, I promise!
And if none of that entices you, go check out the show to support a talented new artist performing truly original music. How often can you go see that?
 Nikos Syropoulos and "Rozalia" at  "The Blue Whale"
Two sets 8:30-11:30pm – 123 Astronaut E S Onizuka Street, Los Angeles.
Cover: $10 | 2 sets | 21+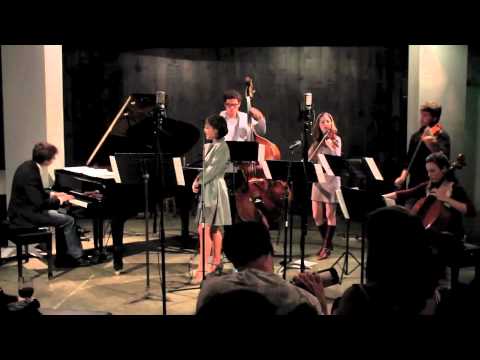 Check out Rozalia at their last show performing "Something More"
Rozalia is:
Nikos Syropoulos: Piano/Compositions/Arrangements
Samantha Sidley: Voice
Leah Zeger: Violin
Sixto Franco: Viola
Hillary Smith: Cello
Jonathan Richards: Bass 
http://www.nikospiano.com/